Background facts
The isolation paradigm forced by the COVID-19 crisis is changing permanently the way of working and studying, as many employees and students have shifted to working or learning from home, encouraged by their companies and schools which have not only recognized the immediate need, but also the benefits of that environment for a number of reasons, to be expected to remain as the new "normal" either in a full or part-time basis.
That brings a new challenge for the IT industry to solve: how to provide an affordable, reliable, high-performance, compatible, stable, and secure system and software environment, that can be used by employees, students, teachers, etc., from their home? And how to make such a change quickly and smoothly with minimal costs, disruptions, and effort?
IT administrators are struggling to reach a workable solution for such an abrupt increase in remote user's demands. VDI (no matter if traditional on-premise or cloud-based) is the most obvious product to buy, but experience shows it's full of bottlenecks, compatibility issues, and performance limitations, and heavily relies on both the backside and client-side infrastructure and network connections. On top of that, the complexity and time to implement are so demanding, and the cost is so high, that in many cases it is just not worth it overall.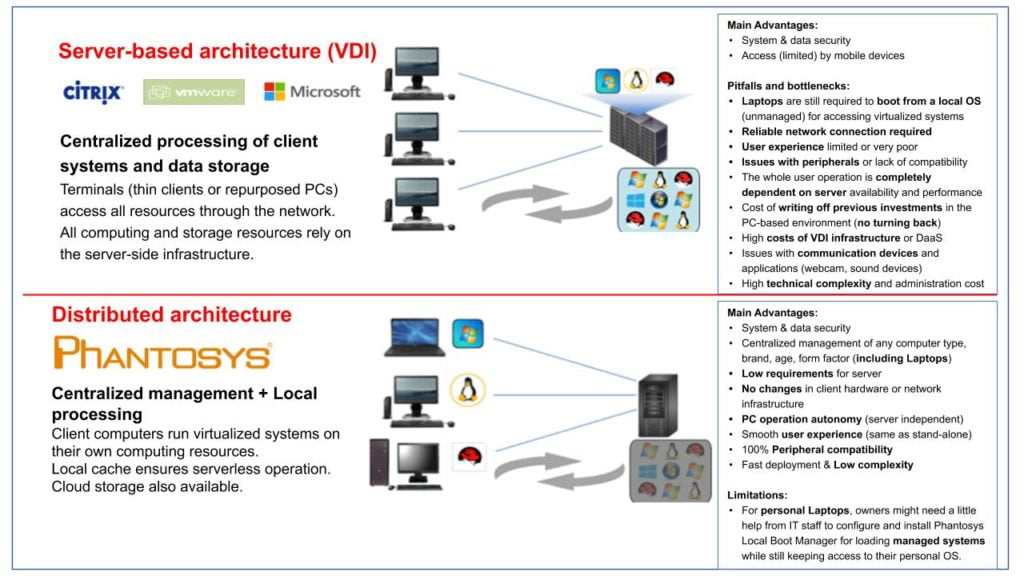 Considerations for enabling Learn/Work-from-home users
VDI / Cloud-Desktop

VDI has been around for many years, and even its cloud-based form is not new (cloud-desktop). Although the solution vendors sell it as a cost-effective PC replacement with the convenience of being accessible from anywhere by any device, in reality, its adoption carries heavy requirements, complications, and downsides, especially for remote users, such as:

High costs for implementation and maintenance, and frequent unexpected expenses.
Servers and storage will need to be expanded to meet increased demand.
Additional software licensing required, including servers, storage, management, databases, and Virtual Desktop access licenses.
The network environment may have to be improved according to connections demands.
A heavy burden of VDI licenses fees and annual maintenance fees.
High management costs and a complex environment that requires high-profile IT staff.
High costs of server space/cooling/power consumption if high volume clients are applied.
Limitation of bandwidth especially in WAN environment.
Compatibility issues often need a workaround for some peripherals and applications, not only a challenge to implement but also subject to be affected by changes and updates.
Performance is very limited, often accepted only for basic programs or web-based applications.
Maybe VDI works well enough in a LAN environment for a small number of clients, but it can become a real headache for hundreds or thousands of clients in LAN or WAN.
The user still needs an endpoint device to access the hosted system (running on server-side), creating an additional resource layer that also needs management and maintenance.
Remote user's Notebook is still required to boot from a local OS (unmanaged) for accessing the VDI hosted systems.
Its TCO can vary by a great deal, depending on the number of clients and performance requirements, and it's often proven to be unaffordable.

This is just a fact: even VDI experts and advocates do not cease to use and rely on a Local OS, applications, and files on their Notebook/PC.
IDV/Phantosys

Phantosys also has a long history (over 10 years) and it's been a great choice for BYOD initiatives, which makes it perfect for Learn/work-from-home users.

Employees can use their personal PC/Notebook to access systems and data provided by the company's IT department, and students can access ready-to-use systems provided by schools including specialized software applications.

In either case, they can load and use a completely separate system (via Phantosys Vdisk) on their PC/NB computing resources, without any connection to personal systems stored in the PC/NB. Phantosys IDV solution advantages are clear:

No risk for POC trial or implementation. No need for significant investments or changes in infrastructure, software licenses, client devices. A trial that can be started right away can become an actual implementation within days, or in the unlikely case of disapproval, can be easily resumed back to the previous software environment.
Server requirements are so low that any low-cost PC can be used as a server.
No extra expenses for renewing existing PC hardware and network environment.
No extra costs for software applications and Windows licenses if volume licenses are already purchased.
No compatibility issues since all peripherals and software will run over local PC resources – just like any standalone PC/Notebook.
No Windows Server Cal licenses are needed because Phantosys server can run on Win 10/7 and will soon support Linux (available in Q4 2020)
Autonomous client operation exempts permanent server connection thus load balancing/redundancy servers are not needed.
Leverage current/existing PC hardware to become fully managed devices (IDV centralized solution).
The performance and compatibility remain the same as the standalone system of a PC/Notebook.
Since the systems are loaded in the PC's HD and run locally, the WAN bandwidth can be 100% allocated for data transmission if cloud data storage is applied.
Any x86 device such as Notebooks, Desktop PCs, Workstations, Tablets, can be set as a client.
Clients can be used without connecting to Phantosys server for up to 14 days, in case the server is down or the network unavailable.
Management tasks are greatly reduced, and Phantosys administration is simple enough for an entry-level professional. Thus, IT support costs can be minimized by up to 90%.
The TCO (Total Cost of Operation/Ownership) can be as low as 50% of VDI.

Phantosys users soon forget or even uninstall their PC/Notebook's local OS, once they verify that systems provided by Phantosys are completely autonomous, secure, easily updated and instantly recoverable, and have the same performance as a standard local OS.
And a NEW option combines the best of both worlds: the WORKSTATION FARM solution "Powered by Intel and Phantosys"
For the graphics-intensive scenarios, 3D rendering, AI, VR, scientific research, and other high-performance demands, we suggest applying the "Intel Workstation/PC farm" concept solution as an alternative to VDI. Welcome to access us for more details.
Click here to contact us, if you are interested in such a creative/unique solution and would like more information