VPI - Virtual Platform Infrastructure
Phantosys original concept. For computers connected to a local server that can be synced to a central server on the cloud.
Compatible with almost any type of computer 

(notebook, desktop, tablet PC, workstation, server, etc)

Multi-site deployment, centrally managed on Public or Private Cloud server platforms
100% autonomous operation and local processing on the PC, with full compatibility with any software and peripherals
All systems/software changes and updates are centralized and automatically distributed to all clients

Several options of plug&play

custom systems (Windows and Linux) 

and application sets

Local management of disk snapshots, instant backup and restore
Flexible storage architecture: all systems and data on client's secure cache; all systems and data on server (diskless client); or hybrid mode (user data on server-side)
PHS - Phantosys Home Office Solution
For Home Office computers that can connect directly to the cloud server, using the PC's internal storage to save Vdisks.
The Local Boot Manager makes Vdisk systems available without dependency on the server or network connections
Phantosys Local Cache provides secure and compliant systems, exactly as a local system

Vdisks' local cache is stored in the unallocated space of PC/Notebook internal storage (HDD/SSD)

Full PC performance and transparent compatibility with any software and peripheral
No need for VDA license fees, since there are no remote-access systems involved
Complete isolation between local partitions (private systems) and systems on Vdisks
Option to block access to ports and media devices (USB, DVD, etc) to prevent data leakage or malware contamination
Users can save/restore Vdisk snapshots to perform instantaneous recovery of systems and data
New versions of Vdisks (with changes and updates) can be downloaded without disturbing the user's operation
The advantages of VPI combined with the autonomy of a stand-alone computer at the Home Office (or anywhere)
PUS - Phantosys USB Solution
For Home Office computers that can connect directly to the cloud server, using a USB Pendrive to save Vdisks.
The PHS features plus:
Phantosys Local Boot Manager and Vdisk local cache area stored on a USB* device, instead of the HDD/SSD
More convenience for the BYOD user, as the computer's internal storage is not used at all
Data security is ensured by the configuration (server-side) of client access authorization by time, client's MAC address, and Vdisk password
Easy and fast deployment for BYOD or rental devices, by USB batch duplication
*Vdisk read/write performance depends on the USB device specs and communication standards (USB 4.0 recommended)
The same advantages of PHS on a portable storage device (USB pendrive)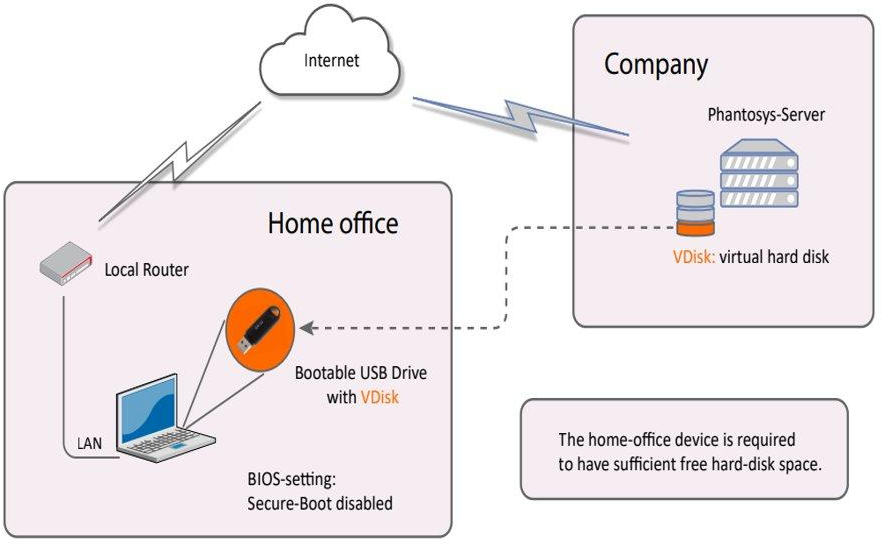 PVDI - Phantosys VDI Solution
Phantosys VDI enables open-source VM platforms (such as Linux KVM) to connect to the Phantosys cloud, for remote-access users.
As Phantosys Virtual Disks can be deployed to any type of client (physical or virtual machine), we developed an integrated platform for managing open-source, cloud-based Virtual Clients, that can be accessed anywhere.
All systems and software can be provided in a structured manner in specific configurations, which can be used both for cloud-based VMs and for local stand-alone computers
The system/software configurations can be used flexibly on any internet-enabled device (Windows, Apple, Android, Chrome OS), including mobile and private devices (for BYOD)
For multi-user operation, use the automatic recovery at every restart in order to always provide a default system for the next user
Alternatively, manual data recovery can be used if the session data must not be deleted with each restart
The recovery functions are available to both administrators and client users. In the event of a problem, the system can be quickly reset to the last saved snapshot
The advantages of Phantosys Virtual Platform Infrastructure combined with the flexibility of a Virtual Desktop Infrastructure
RAM - Remote Access Manager
Effective use of PC pools and optimized allocation of software and hardware resources, by remotely operating the available clients
By accessing the Web portal, all available OS images authorized for the user will be displayed. Users are authenticated by Active Directory. Security is improved and usage history can be managed.
There is no need to be aware of the connected PC. The system constantly monitors the status of PCs and automatically determines which PCs are not in use according to the user's request.
When the user selects an image, the remote desktop connection will automatically start, and the login screen of the target PC will appear. Then just log on to your computer as usual. The target PC in use will be locked to prevent inadvertent local logon.
The user environment can be accessed from Windows PC, Apple Mac, iPad, Android, Linux, etc. Easy to use in multiple environments.
You can set the maximum usage time, and you can also create and edit schedules with time limits for the available OS images.
Viewing host status and login information. Easy to edit notification messages.
Users can easily and safely connect to any PC with the software they want to use without being aware of the actual PC status.