Exclusive technology: Virtual Disks with advanced security

, running directly over local resources on any standalone physical PC (

not on a Virtual Machine

)
Managed on Public or Private Cloud server platform

Compatible with almost any type of computer

(notebook, desktop, x86 Tablet PC, workstation, etc)

100% autonomous operation and local processing on the PC

, with full compatibility with any software and peripherals

Plug&Play virtual disks: system

ready and available to use in a few minutes

Several options of

custom systems (Windows and Linux)

and application sets

Local management of disk snapshots,

instant backup and restore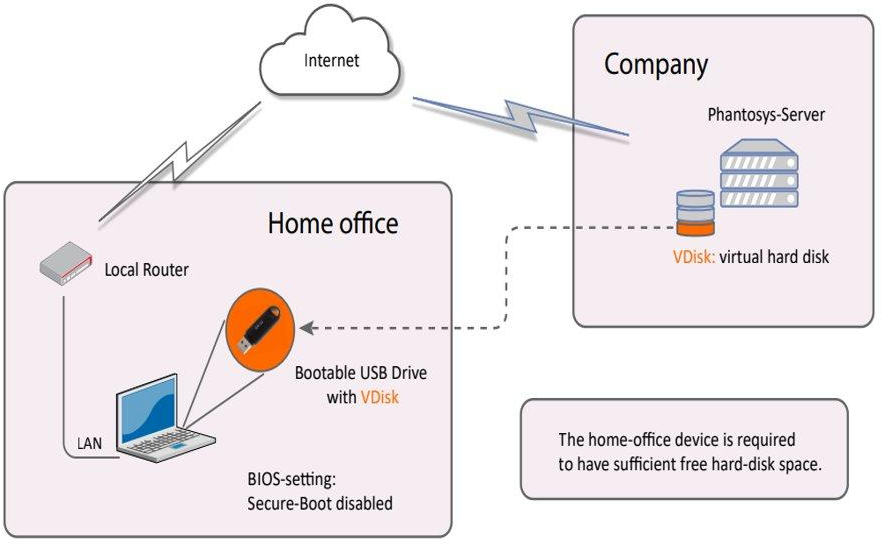 Our integrated solution for the home office has as its essence the prevention of security and failure incidents.
It allows the complete customization of systems and software sets made available on the user's PC at the home office, to meet security standards and compliance with data protection regulations.
In addition to the security built into users' systems, the platform offers exclusive features: pre-boot passwords, port and media blocking, disk auto-recovery, system and data disk separation, IP configuration, automatic disk lock after preset time without server authorization, among others.
Groundbreaking disaster recovery solution for personal computers. Perform a complete restore (system and data) by a simple reboot.
Users can save Vdisk snapshots (directly by the local boot manager, without using a VM/ hypervisor ) and perform instantaneous recovery of systems and data, by the manual trigger when necessary or automatically at every reboot.
It is also possible to export a local snapshot to a remote server, thus creating a complete backup of the user's workstation, which can be restored even after an eventual physical disk replacement or PC exchange.
As the vDisk structure is stored in a protected area of the hard disk or SSD, it is invisible and inaccessible by external means. In case of computer loss or theft, the contained data cannot be read.
It is also possible to maintain an isolated system for private use on the PC or notebook (such as the factory pre-installed OS). The operator can switch between the professional vDisk system and the private use system via the boot menu and no data exchange between the private and company systems is possible.
Total control over software changes and updates
System updates are very important for data security. However, they can be very time-consuming, during which the system becomes slow and sometimes unusable.

Download or installation failures are frequent. And it may require

several reboots, making the computer unavailable for a long time.

Setting up or installing new applications often requires individual remote assistance for each user, incurring additional costs and wasting valuable time.
Individual updates can be safely inhibited.

Standardized virtual disks containing systems and software can be centrally updated or changed as a single standalone system no matter how many endpoints are managed, saving time and costs, and enforcing compliance.

The distribution of new Vdisk versions is done by differential copy as a background process, without disturbing the user's work.

On the workstations, users just need to switch to the new version of the Vdisk, already updated, configured, and fully tested.
Boot authorization control by MAC address

Built-in disk encryption, regardless of the system contained in the Vdisk, whether it's Windows or Linux

Two levels of pre-boot passwords: disk wide and/or to boot a specific Vdisk

Hierarchical Vdisk versioning, with the possibility of rolling back to previous instances

Centralized control of system access permission and revocation
Instant disk backup and recovery, by manual command or automatically at every reboot

Possibility of hybrid recovery mode: manual trigger for data, automatic at every reboot for systems/applications 

Blocking of ports, USB devices, and other peripherals

Possibility of customizing the boot manager menu (branding, user instructions, and alerts)

Centralized management of system updates and changes, with background differential copy (during normal use)
Prerequisites for installation via USB pen drive:
Computer must meet with the recommended hardware configuration for the OS contained in the Vdisk (Windows or Linux)

UEFI* BIOS

Network interface card, connected to a broadband Internet router by cable**

Empty hard drive/SSD (will be formatted during installation)***
* Ask us about the installation method for Legacy BIOS
** Cable connection required for initial installation only. After boot, the PC/Notebook can use the WiFi connection normally.
*** Free hard disk space recommended for Local Cache storage: ~3 x Vdisk total size. Ask us how to install the Vdisk cache area alongside an existing partition (to keep a personal preinstalled system).
Installation on the client computer is quick and easy, it consists of the steps below:
Download the Phantosys EFI installer and Vdisk file, and save them on a bootable USB disk or pen drive

Configure UEFI BIOS: Secure Boot Disabled, Network Stack Enabled

Connect the NIC by cable to the internet router, start the PC, and select boot by USB 

Enter the credentials (server IP, Login/password) to register the PC client

Format the disk to install the cache area and Boot manager

Load a copy of the default virtual disk (pre-configured system)

After the copy is complete, start the system normally
Average total time for a complete setup, from a blank PC to the user login: ~10 minutes
(time considering a PC with SSD, USB 3.0, Vdisk size ~25Gb for Win10)